California Tours features a series of interviews with the tour guides who lead our tours around the US. They'll share funny stories, travel tips, and details about the destinations that they visit so often.
This week, we speak with Tim Dewart, a professional tour guide based in Boston who switched from a life of performance and theatrical arts to the fine art of giving tours! Throughout the East Coast and all across the National Parks, Tim has spent years cultivating a passion for travel and adventure in the United States.
Can you tell us a about your background as a tour guide?
After 35 years of producing set backgrounds and designing them for television, print, trade shows and corporate events, I wanted more connections with people. A tour guide friend of mine said it would be a good career fit for me. So, I enrolled in a course at the International Tour Management Institute in San Francisco for professional training. I chose this career because I enjoy working with people, and it gives me the chance to understand the depth of the history and stories behind any area.
You once rode through the country's national parks by motorcycle. Do you have a memorable story from that time?
When I was traveling on my motorcycle alone through Utah on a hot afternoon, I stopped and picked up a newspaper from a gas station. I saw that there were Great Dane puppies for sale. It was already about 20 miles back, but I turned around and bought the last of the puppies within the hour. I named him Jake, and he weighed just a pound and a half. I put him in my tank bag after seeing a vet, making sure he got his shots, and traveled with him the next two months! He slept in my sleeping bags in the national parks – a dog's body temperature is a few degrees warmer so he kept me warm.  In Yellowstone I had to be careful so bears didn't catch him at night, so I was warned not to let him roam off on his own. By the time I got to Seattle I had to get a bigger trunk for him.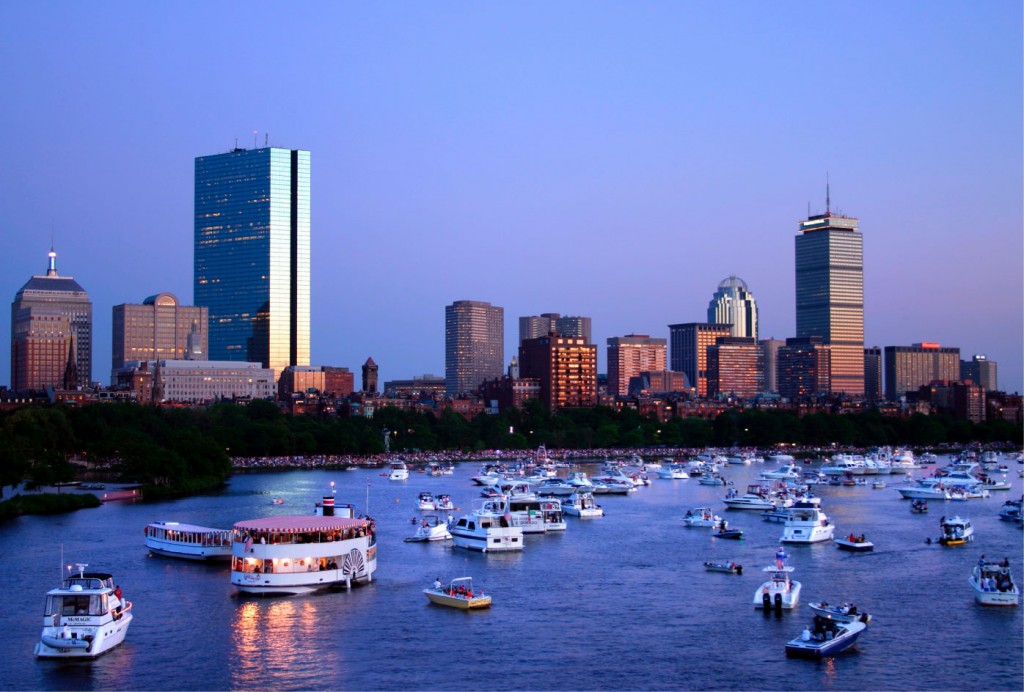 What is your dream itinerary for Boston, your current city?
Something like a 4 or 5 day tour, each day using a different mode of transportation: boat, train, coach, or even on foot, pairing these modes of travel with types of food and in different settings. For example, being on the coast, Boston has many scenic coastal resort ports where a chartered motor or sailing ship can dock, while guests enjoy fresh seafood.  Another day might be food at country inns inland, in Lexington and Concord for example. Also there's horse riding, or watching the hunt in Hamilton on the North Shore of Boston where spectators can picnic while watching polo events.  Modern museums would go well with continental food, and our Boston Museum of Fine Art can be paired with elegant upscale dining. A spirited game featuring the Boston Red Sox, Bruins or Patriots would be perfect with a steakhouse dinner. With these unlimited possibilities, Boston is perfect for an imaginative traveler.
What are your favorite places to eat?
To sample the typical fare, I'd recommend visitors try the well established restaurant Durgin-Park, as it is known for its sassy, fun service and plentiful food. It's located right in Quincy Market which has probably more visitors than any other spot in town. Also, a block away from Quincy Market is the Union Oyster House of Boston, in business since 1826, making it the oldest restaurant in the USA. I'd recommend it for tourists because it serves great seafood and New England specialties in a warm setting of great charm and history.
Can you recommend any weekend getaway ideas close to Boston?
The North Shore and the South Shore are great getaways. Northbound travel can take you as far as Newburyport near the New Hampshire border, and southward lies Provincetown, on the tip of Cape Cod
Only thirty minutes north of Boston are the fishing and tourist destination ports of Gloucester and Rockport, which also have very fine art colonies.  The other popular North Shore seaport is Salem, which is referred to as "Witch City" but has a broader history as a major port for trade to the far East.  Salem also has the Nathaniel Hawthorne's residence, the House of the Seven Gables, and The Peabody Essex Museum, world famous for its collections.
Another popular destination is Old Sturbridge Village which authentically re-creates the daily working life of a rural 19th-century town.  Young and old alike will enjoy a visit to "Plimoth Plantation" in Plymouth, a 17th-century colonial village with role players in the dwellings, rare and heritage livestock, a craft center, the Mayflower II, and finally, native people from the Native Nations dressed in historically accurate clothing, all set in the Wampanoag Homesite. Both Sturbridge and Plymouth are only one hour outside of downtown Boston but immersion in the culture of another century makes them feel much farther away!
Finally, why is Boston called "Beantown"?
Big exports in Boston are beans and cod. Codfish was a big source of income when cod was plentiful and it was salted and traded around the world. In Boston, beans are often served with codfish cakes. The beans are usually baked, served in a brown ceramic pot with molasses and sometimes a bit of ham.
California Tours offers East Coast vacation packages with customizable itineraries in Boston, as well as private group tours to the area.