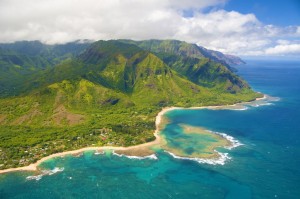 The remarkable, opening scene of verdant mountains and undulating valleys from the legendary flick, "Raiders of the Lost Ark," was captured in none other than lush Kauai. And it's no secret that the velvety greens and sapphire blues of the landscape and ocean have enticed producers worldwide to select Kauai as the backdrop for nearly one hundred films. Elvis Presley's famous "Blue Hawaii" was shot on location. And Jurassic Park, King Kong, and even the iconic TV show Gilligan's Island locked in celluloid dreamscapes on this island gem.
At its very heart, Kauai remains true to its nickname, the Garden Isle. Unlike bustling Oahu, and larger-than-life Hawaii Island, small Kauai takes life easy in the slow lane.  As the fourth largest island in Hawaii, with only 552 square miles, the island is segmented into five main districts: Lihue (in the south east), East Side, North Shore, South shore and West Side.
Outdoor lovers will revel in its unparalleled and haunting beauty, and it is no wonder that visitors return year after year. When you go, be sure to spend time in these five beloved locales:
1. Waimea Canyon – Plan on spending an entire day here in what is known as the Grand Canyon of the Pacific. Bring a picnic lunch and explore this breathtaking canyon  measured at one mile wide, ten miles in length and over 3,500-feet in depth. Popular are helicopter flights that take tourists above and into the canyon itself. The Kalalau Lookout, in particular, yields unspoiled views of the valley, descending 4,000 feet to the ocean.
2. Na Pali Coast – This pristine 17-mile of coastline on the North Shore is world-renowned. Be sure to jump on a chartered boat excursion to see the variety of caves, jagged mountains and cliffs which are nothing less than jaw-dropping.  It can only be accessed via sea tour, air, or foot.
3. Poipu Beach Park – On the South Shore, this lovely stretch of beach was once named American's best beach. Why? It is ringed with palm trees, soft white sand, and provides great opportunities for snorkeling to see tropical fish up close.  The park offers restrooms, showers, picnic tables and lifeguards to keep everyone safe.  From December to May, you can see humpback whales in their glory.
4. Wailua, Hanalei, and Huleia rivers – Rent a kayak and paddle on these navigable rivers for majestic scenery you have only seen in the  movies. Sacred waterfalls, unfathomable mountains – it's the stuff dreams are made of.  The river waters are relatively calm, and you can also take a guided tour intended for all skill levels. Also available are zipline safaris for access into private ranches and rare waterfalls near the Huleia River.  The Wailua River, however, remains one of the most popular.
5. Fern Grotto – Take a Wailua river boat ride and get an eyeful of this natural amphitheater that is so spectacular it plays hosts to weddings throughout the year. Opulent ferns create a canopy on lava rock, and a typical cruise up the river to the grotto takes about 40 minutes. A short paved walk extends from the dock to the famous grotto while Hawaiian musicians serenade in the background.
This list is a sampling of the dynamic outdoor diversions of Kauai. Whether it's your first or fiftieth time on the Garden Isle, the charms of Kauai never grow old. For travel info, visit www.kauaidiscovery.com or call the Kauai Visitors Bureau at +1 (800) 262-1400. Check out California Tours' Hawaii Packages and book your flight and hotel today! Aloha!
Kathy Chin Leong must get her Hawaii fix every two years or she will definitely suffer withdrawal symptoms. This author has written about Hawaii for Sunset Magazine, Coastal Living Magazine, Islands Magazine, TravelAge West, and www.BayAreaFamilyTravel.com.