California Tours features a series of interviews with the tour guides who lead our tours around the US. They'll share funny stories, travel tips, and details about the destinations that they visit so often.
We begin our series of tour guide interviews with Alison Merrill. Alison has been a tour guide for 13 years and is in it for life! She specializes in tours of the American West in both English and French, and is based in the San Francisco Bay Area.
Can you tell us a little bit about your background?
I am university educated, with a Bachelor's degree in English Literature and French Literature. I went to graduate school for many, many years, in French Literature.
So how did you get started as a tour guide?
When I moved to California, I needed to work, and my background was kind of limited to academia, fine languages, and personal travel. I knew about teaching and lecturing, which is similar to leading tours. Since San Francisco is a hub for tourism, I thought I could use my language skills as a tour guide.
What do you like about being a tour guide?
I like the flexible schedule—that fits my personality. I love not being in an office, and not having to commute. I work with a lot of foreign people, so I enjoy acting as an interpreter of American culture and politics. People are somewhat familiar with American life because of movies and the media, but I can give them a very different perspective and really teach them a lot.
What are your favorite kinds of tours to give?
I work in the American West, which as far as I'm concerned is one of the most beautiful regions in the world. California is famous the whole world over, and the tours around the Southwest and Canyon country are so unique and stunningly beautiful.
When is the best time of year to go to the Southwest?
Every season has its advantages. Summertime is the most convenient for families, but it's also the hottest time of year, so you can't do as much hiking. Springtime is nice but there are a lot of tour buses on the road so it can get crowded. September and October are beautiful because of the fall colors. And while it snows in the winter, that too can be really beautiful. All the parks stay open in the winter so it's a great way to see them without the crowds. It's beautiful all year round, so I would just recommend trying to go in the off-season to get lower plane ticket prices.
What are the must-see destinations in the Southwest?
The Grand Canyon, Monument Valley, Bryce Canyon, Lake Powell, Zion Canyon, and Arches are the most popular. Many people spend 8-10 days doing a circle starting and ending in Las Vegas—they might take day trips to Death Valley or the Valley of Fire from Vegas and then continue on to the Grand Canyon and the rest. There's a lot of driving, sometimes 250-300 miles a day, but people on my tours often say they don't get bored because the scenery changes from morning to afternoon and is just so beautiful. So no napping on the bus!
What activities do you recommend?
In Moab, Utah (near Arches), there is a wonderful Hummer tour that goes off-road and is really fun. In Monument Valley many people take the jeep tour as it's the only way to get into the valley. If you're looking for adventure, rafting out of Moab can be fun. Horseback riding is great in Bryce and in Page, near Lake Powell. The best way to see Arches is on a scenic air tour from Moab—very small planes with 4-9 passengers, on a 50 minute flight. Another great air tour is over Lake Powell. These are fantastic ways to see these huge places that you can't see from a photo stop in your car, or even a hike won't give you the perspective. In Lake Powell you get to see the contrast in colors of this turquoise blue ribbon cutting its path through the ochres and reds of the American desert.
What's the best way to enjoy the Southwest while traveling with kids?
A great thing to do with kids is a Western-themed dinner. There will be singing cowboys on stage, and it's a great family activity. There is one in Bryce and one in Moab. You can also get your kids cowboy hats and sheriff star badges, that makes for adorable pictures as well!
What are some good souvenirs you can find in the Southwest?
I always recommend people buy from Indian Country because many things are handmade—there is an endless selection of turquoise and silver jewelry, which are great souveniers and really unique. They also have handmade Indian dolls, pottery, baskets, statues, great wall hangings.
Do you ever get tired of working in the American West?
I've been doing it for 13 years, and must have seen the Grand Canyon over 150 times, but I don't get sick of it. To me it's the most beautiful place in the world, and I never get tired of seeing my passengers' faces—I love watching how much pleasure they get out of their trip.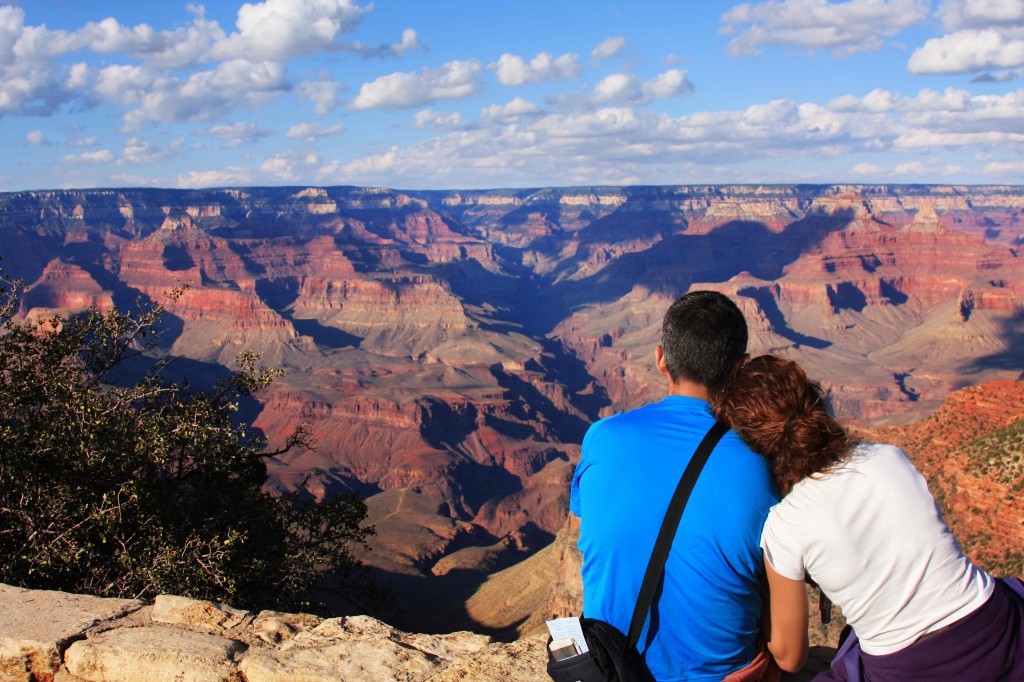 We love these travel blog posts about the Southwest — click for more!