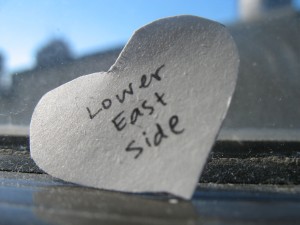 Visitors to New York must strategically plan their energy – if you shop all day in SoHo and then drop when you get to the hotel, food can seem like too large an undertaking. But in New York, food is one of the greatest attractions of all. Luckily, the Lower East Side is snugly nestled between SoHo, the East Village and Chinatown – all sweet little cake toppers on this larger smorgasbord of visual and cultural delight. The Lower East Side represents a culturally rich corner that has always drawn attention, from the Europeans populating its tenement-littered ghetto in the early 1900s, to the hipsters and Hispanic communities of today who rule the increasingly trendy bar and foodie scene.
In the LES, a clever bit of detouring can make the most boring or hectic city errands into sweet treats: after snagging a few necessities, I stopped at Doughnut Plant to taste a few exotic variations on New York's second favorite dessert (the first being, of course, the ever-popular cupcake). Recommended doughnut taste test: tres leches and crystallized ginger, two nods to the area's heavy Hispanic and Chinese influences.
I also came across the Clinton St. Baking Co., which hosts a Pancake Month in February and also delights year-round, with amazing dishes like pancakes with fresh blackberries, pecan streusel and maple butter – heaven! They're open until well into the night for prime-time craving relief, and the mere thought of their inventive pancake creations will forever be my Pavlovian bell… pancakes with crunchy bananas and cinnamon-chili-chocolate sauce – where can I begin my praises?
Even ignoring the food – although this is highly discouraged! – the LES is bursting with endless cultural and historical venues to discover. I toured an old tenement house from the early days of Ellis Island immigration, where painfully poor Jewish immigrants endured stifling heat and cramped quarters just to have a slice of the American Dream. The neighborhood also has some fantastic public art, notably in the Hispanic area. Avenue C was even given a second name, Loisaida Ave., for the Hispanic pronunciation of "Lower East Side." The display at left can be found at ABC No Rio, whose website says, "ABC No Rio is a collectively-run center for art and activism. We are known internationally as a venue for oppositional culture."
My wanderings led me to the recently-defunct Café Charbon, a longtime favorite of the neighborhood and always a pleasant sight to behold when meandering nearby, with its authentic French mailbox, window of (fake) cheese, and recreation of the classic French tabac (smoke shop). Now visitors of the francophile persusasion will surely gravitate down the block to Les Enfants Terribles, a Moroccan/French fusion restaurant. From corner to corner, the Lower East Side is truly a place to witness the fabled "melting pot" that is New York City.
After so much walking, my mind was set on the highly-anticipated end note of the trip: Rice to Riches. Rice pudding and snark bundled together like me and my favorite blanket on a cold day. I got the hazelnut, which tasted a little like plain chocolate, but still good, with whipped cream, but the flavors and topping possibilities are endless (Cinnamon Sling? Fluent in French Toast? Why must New York offer so many choices when we have so little time to explore?). I'll leave you with this delightful image from the inside of Rice to Riches. Now, how to decide if I have room for spicy grilled corn and tacos at my favorite corner Cuban joint, Café Habana… For a day of foodie indulgence, anything goes.

Doughnut Plant, 379 Grand St.
Clinton St. Baking Co., 4 Clinton St.
ABC No Rio, 156 Rivington St.
Rice to Riches, 37 Spring St.
Café Habana, 17 Prince St.
Bonus recommendations:
Photos © A. Furukawa